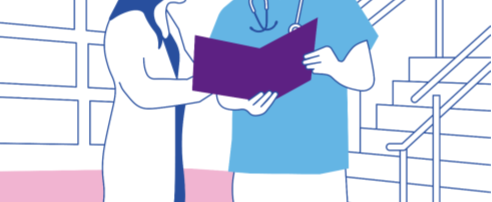 – Updated February 2023 –
Case study in summary: Health – data infrastructure
Primary health data such as electronic health records, health insurance claims and health registry data can be aggregated from population-level sources and used in new ways or secondarily. Yet the necessary policies for best practice data usage are not in place.
There is an emerging data economy globally that will have an impact on all sectors, but not all sectors understand this or the complexity of the topic.
— Jennifer Pougnet, Global Data Policy Strategy Lead, Roche
Roche commissioned the ODI to help it understand whether European policymakers were ready for, or already embracing the secondary use of health data.
The findings within the ODI report have been tabled at established international forums, informing policymakers on the existing health data policy landscape in several European countries.
The accompanying interactive tool has nearly 5,000 users and, in May 2022, was awarded a silver medal at the DataComms Awards for 'Best use or visualisation of data from the healthcare and pharmaceutical sector'.
Case study in detail
The brief
Roche is the world's largest biotechnology company and the global leader in in-vitro diagnostics. The company pursues scientific excellence to discover and develop medicines and diagnostics for improving and saving the lives of people around the world. Health data has the potential to improve patients' health by enabling earlier and more accurate diagnosis, earlier treatment and the use of more personalised approaches to offer treatment that is more effective and better suited to patients' needs. A key element of this is secondary use of health data.
Primary health data such as electronic health records, health insurance claims and health registry data can be aggregated from population-level sources and used in new ways. This is known as 'secondary use of health data', and can enable a wide range of benefits across the entire healthcare system, such as optimising services and reducing health inequalities by better allocating resources.
It can also enable the delivery of personalised healthcare, for example by comparing treatments for people with similar characteristics; and support innovation, research and policymaking including through predictive modelling and diagnosis or data flows that track and respond to patient needs in real-time. Secondary use of health data is an important use case for health data where new digital tools for stewarding, sharing, and using data are rapidly accelerating its impact opportunities. Because of this, there is uncertainty in the health policy community about how it can best be developed.
In 2020, Roche identified a strategic window of opportunity around the development of policies for the secondary use of health data in Europe. This was shaped by two urgent drivers, both with longer-term consequences: the need for national and international health data sharing in response to the Covid-19 pandemic, and the creation of the European Health Data Space for better sharing and governance of health data in the EU.
In particular, Roche aimed to:
understand and contribute to European policy at the European Commission (EC) level on the secondary use of health data
understand and contribute to country-level policy across the European region on the secondary use of health data
build capacity within Roche around policy on the secondary use of health data.
Our response
Roche commissioned the Open Data Institute (ODI) to map and benchmark the policy landscape for secondary use of health data in Europe at both an EC level and a country level across the European region (covering 25 EU member states and Israel, Switzerland, Norway and the United Kingdom).
The ODI produced a report and interactive digital tool on the landscape of policies relevant to secondary use of health data in Europe at both an EC and country level. This included:
pioneering a framework based on our ODI manifesto for open and trustworthy data ecosystems, to identify the components that would be needed in these policies
a scoring matrix that provides a quick and accessible metric for benchmarking the quality and progress of relevant policies in each jurisdiction against the framework
a suite of country profiles and scorecards to present our findings in context of factors such as country GDP, population size, and in-country inequalities
a 'library of good practice' to translate the high-level analysis into practical examples of implementation across the European region that policymakers can 'steal with pride'
In 2021, we launched the report and digital tool at the renowned European Health Forum Gastein – an annual conference and key platform for health policy exchange in Europe, which welcomed over 900 high-level participants to discuss how Europe can recover from the Covid-19 crisis.
To support project impact, we used audience mapping to develop and produce a range of multimedia assets and engagement tools that resonated with different key stakeholder communities – including a white paper and expert briefing event on the European Health Data Space; a survey mapping health data standards in Europe; a video explainer; a suite of 30 country-level scorecards as datasheets for users to download and adapt; a booth and live Q&A at the ODI's flagship event, ODI Summit 2021; and country-level multi-stakeholder workshops and discussion events across Europe.
Throughout the project, we also designed and delivered capacity-building activities to help country-level and cross-function Roche teams to understand the emerging European health data policy environment, map relevant networks of external stakeholders, and identify future opportunities to collaborate and foster open and trustworthy health data ecosystems.
Impact
We're pleased to see the project deliver impact towards the goals that we set out to achieve.
At a European level, the report has been used in numerous established multi-country forums – for example, it was tabled at Europe's real-world data infrastructure (DARWIN EU) Advisory Board meeting (chaired by the European Medicines Agency and the Head of Medicines Agencies), and was used as the basis for a keynote session for European health stakeholders at the Global HIMSS conference.
At a country-level, insights from the report have informed policymakers on the current health data landscape in several countries – for example in Belgium, our mapping of the ecosystem informed multi-stakeholder representation on the newly-formed Belgian Health Data Authority; in Greece, the findings were used to support a partnership between the Ministry of Digital Governance and Ministry of Health; and in Romania, the research enabled multi-stakeholder partnerships (including government, industry and patient groups) to create concrete action plans to address health inequalities.
The launch was covered by Tech Monitor, and assets have been shared widely by key stakeholders – for example in a newsletter by the EC's TEHDAS joint action project, which develops European principles for the secondary use of health data; and in a news story at the EC's Support Centre for Data Sharing. The research has been globally influential, with the ODI's definition appearing as Google's featured snippet for 'secondary use of health data', and the project resources ranking higher than equivalent resources on the topic from the EC's European Medicines Agency (EMA), the USA's National Institute for Health (NIH), and the UK's National Health Service (NHS) (correct at time of publication, June 2022).
In May 2022, the digital interactive tool was awarded a silver medal in the DataComms Awards for 'Best use or visualisation of data from the healthcare and pharmaceutical sector'.
The project has also driven cultural change within Roche – through capacity-building workshops within Roche around this project, we have contributed to changing the organisation's ways of thinking about health data policy.
"We first approached the ODI to undertake independent policy landscape mapping and analysis across Europe with a six-month commission for a technical report. However, because of the quality of the work we were seeing and the insight, creativity and fresh perspective that the ODI team brought, we extended and expanded the commission over nearly two years and are proud of the contribution this work is making to European health data ecosystems. Working with the ODI in this way has enriched our understanding of data ecosystems and multi-stakeholder engagement around them. It has also strengthened how we collaborate internally on multidisciplinary projects, and helped us strengthen how we partner with others in the wider health data policy community." – Kelly Butterworth, Global Policy Leader, Roche
Key facts and figures
Want to know more about how we can work with your organisation? Get in touch with the ODI team