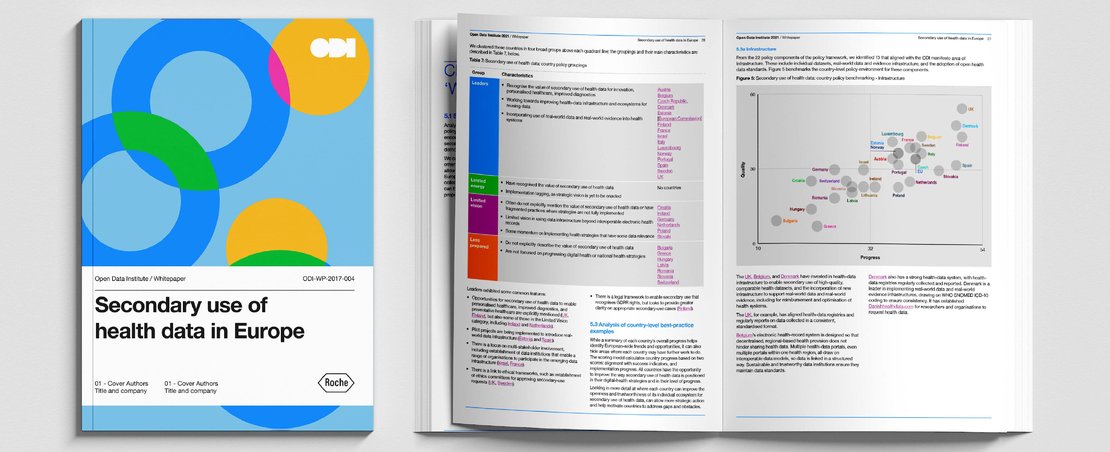 The Open Data Institute (ODI) has published a first-of-its-kind report – commissioned by Roche – scrutinising the policy readiness of Europe for the secondary use of health data and identifying good practice across the region. Authors: Mahlet 'Milly' Zimeta, Mark Boyd, Jeni Tennison and Mahad Alassow
Why is health data important?
Healthcare systems around the world are changing. New approaches to using data are enabling new treatments and therapies, and healthcare professionals also use data to enable predictive modelling and design personalised care plans. As we have seen with the impacts of the Covid-19 pandemic, high-quality health data can also help governments and healthcare collaborative networks with population health management and in establishing early-warning systems.
With an ageing population, an increase in chronic illnesses, the health impacts of climate change, and reduced available government spending in the wake of the pandemic, there is an urgent need to increase the efficiency and effectiveness of healthcare systems.
Use comparison tool and explore the report
What is secondary use of health data?
Health data is a term used to describe all the information generated through the process of delivering healthcare to populations, including disease registries, public health surveys, clinical trial data, insurance claims and electronic health records. Primary use of health data is when health data is used to deliver healthcare and to make decisions about the care of the individual from whom it was collected.  Secondary use of health data is the use of aggregated health data from population-level sources – such as electronic health records, health insurance claims data and health registry data – to improve personal care planning, medicines development, safety monitoring, research, and policymaking.
With secondary use of health data, clinical data, such as incidences of healthcare and clinical trials data, can be combined with data collected from other sources, such as sickness and insurance claims records, and from devices and wearable technologies. This data can then be anonymised and aggregated to generate new insights and optimise population health, improve patients' health and experiences, create more efficient healthcare systems, and foster innovation.
The secondary use of health data can enable a wide range of benefits across the entire healthcare system. These benefits include opportunities to optimise service, reduce health inequalities by better allocating resources, and enhance personalised healthcare – for example, by comparing treatments for people with similar characteristics. It can also help innovation by extending research data to assess whether new therapies would work for a broader population. Secondary use of health data can also include predictive modelling and diagnosis, at an individual or population-wide level, or data flows that track and respond to patient needs in real-time.
Our approach
To assess the policy context for secondary use of health data at both a European and country level, we drew on our theory of change and our manifesto to identify 22 key policy components needed to achieve an open and trustworthy data ecosystem for secondary use of health data. For each component, we proposed a 'success indicator' – a one-sentence statement explaining how it would operate if it was a fully functional policy area. Finally, we evaluated these in two ways:
What is the quality of policy activity for this indicator? The evaluation range for activities is: having only limited aspects of the success indicator (low / 0); aligned intent but missing key aspects (medium / 2); fully comprehensive (high / 4).
What progress is being made on implementation of policy for this indicator? The scoring range for the policy implementation stage is: not started (0); defined (1); planned (2); pilot initiatives (3); scaled-up implementations (4).
The policy indicators evaluate the readiness of the policy environment in each country, but do not evaluate other key considerations for implementation and impact – such as the economic, political, and social environment. With this in mind, we've also included data on country GDP, population size, GDP per capita, and Gini coefficient for in-country inequalities.
Explore our report and interactive tool
Our report, commissioned by Roche, contains analyses for the EC and for 29 countries in the European region: 25 EU member states, and Israel, Norway, Switzerland, and the UK.
Our approach allowed us to create a set of country rankings, and a library to demonstrate good practice. This also means country and regional policymakers and ministries of health can compare themselves with their peers, and identify approaches they can adapt for their own context and 'steal with pride'.
'Leaders': where the quality of policy is stronger and the stage of implementation is more advanced. 15 countries and the European Commission (EC) are in this category: Austria, Belgium, Czech Republic, Denmark, Estonia, EC, Finland, France, Israel, Italy, Luxembourg, Norway, Portugal, Spain, Sweden, and the UK.
'Limited vision': where the quality of policy is weaker but the stage of implementation is more advanced. Six countries are in this category: Germany, Ireland, Lithuania, Netherlands, Poland, and Slovakia.
'Less prepared': where the quality of policy is weaker and the stage of implementation is less advanced. Eight countries are in this category: Bulgaria, Croatia, Greece, Hungary, Latvia, Romania, Slovenia, and Switzerland.
'Limited energy': where the quality of policy is stronger but the stage of implementation is less advanced. No countries studied met these criteria.
You can explore the data and country profiles and scorecards with our ODI digital interactive tool.