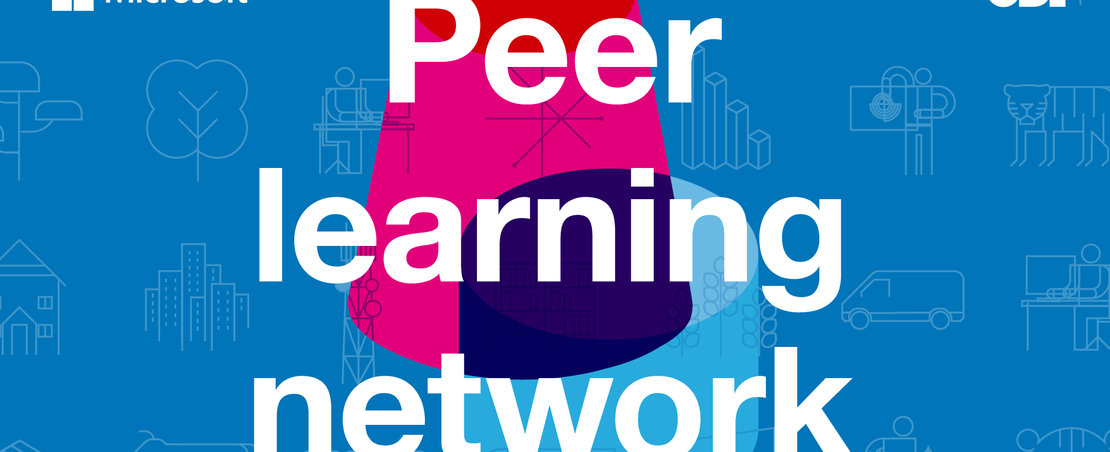 Data sharing and collaboration is hard, and in our experience, there are many common challenges faced by the people and organisations trying to collaborate around new initiatives. Many data collaborations, for example, have to identify and adopt the right mix of technical tools and approaches, and many struggle to sustain themselves financially in the long run.
In October 2020, the Open Data Institute (ODI), in partnership with Microsoft, put out an open call for data collaborations to participate in a peer-learning network. The aim was for the peer-learning network to provide them with opportunities to share and learn from each other, in particular to explore issues associated with trust and trustworthiness. The network would also provide them with access to ODI and Microsoft guidance and expertise.
We selected six data collaborations from around the world that addressed significant societal and economic challenges across sectors including transport, health and others. Many of the participants were still at an early concept stage and participated in the network to challenge and validate their early designs, and identify key challenges and ways to address them.
Enabling data collaborations to realise the benefits of open and shared data was a main goal of the ODI and Microsoft partnership. Over the six months, we offered opportunities for the participants to connect and network, ran workshops themed around key challenges, and gave 1:1 support from the ODI and Microsoft team. We also shared guidance and literature, and connected the participants to relevant experts across our combined network.
We documented key learnings from our experiences with this first cohort of the peer-learning network. We hope that sharing these stories will demonstrate some of the core challenges for data collaborations and show how different kinds of support can help.
Networking is a vital component of success for newly established data collaborations, as they expose organisations to the challenges and solutions of others. However, finding the time and space to network can be difficult, especially online.
The peer-learning network provided these opportunities through open forum network events for the data collaborations to engage, share insights, and learn from the other participants. The open forum  events took a 'speed-dating' approach, matching collaborations up with each other for 15 minute one-on-one sessions allowing for feedback on crucial challenges and to establish relations. 
Packaging Reuse Data
The Packaging Reuse Data Collaboration is a collaboration between Reath and Zero Waste Scotland that explores the opportunities that emerge from sharing packaging reuse data. A key part of their challenge was to nurture the adoption of reuse.id - their packaging reuse data standard and to broaden their business scope. 
They realised that trust in the standard is critical for uptake by both the data producers and the policymakers. In order to achieve this they wanted to put a robust governance in place, and ensure sponsorship by reputable bodies or individuals. The open forum  events offered a space to talk through their thoughts and learn from the experience of those who have set up a steering group in the past. If you are interested to find out more about this data collaboration, please read their final report summarising their experience in the peer-learning network.
Creating a data ecosystem map helps to understand how data creates value. In our first workshop we introduced the ODI's Data Ecosystem Mapping tool to help the peer-learning network explore flows of data and value in their respective ecosystems, and to identify opportunities for increasing value to particular actors with them. 
As trust is a key component of overcoming barriers to sharing data, we also showed participants how to develop a trustworthy data ecosystem map to understand where trust – or lack thereof – impacts the value created by data flows. 
Caring for Equality 
Caring for Equality is a data collaboration project between the government of Buenos Aires City, represented by the Statistics Bureau and the Gender Equality Office (GCBA), and the Open Data Charter (ODC), with the main goal of building a Care Indicators System (CIS) that shows how care supply and demand are currently organised in the City and will evolve in the future.
To develop a trusted care indicator system they need to get data from multiple private and public sources. The data ecosystem map helped them to identify where the data is located, how to access and leverage it, and most importantly how to show value in sharing for stakeholders.If you are interested to find out more about this data collaboration, please read their final report summarising their experience in the peer-learning network.
When considering trust, many data collaborations need to make decisions about technologies to use to ensure that sensitive data is protected, as well as shared to unlock new forms of value. In some cases, where the collaborations involve personal data, this can be for reasons of privacy. In others, it may be due to commercial sensitivities around the data.
The second workshop introduced participants to recent developments in the field of computing techniques such as differential privacy and federated learning, and showed how different anonymisation methods can have the dual function of protecting sensitive information and providing access to data. By working through different use cases, the data collaborations were able to link their broader, social and ethical thinking on trust and trustworthiness with more pragmatic technological considerations.
Data Cargo
Data Cargo is a collaboration between The Data Place and Bikespace, two social enterprises based in Plymouth, UK. They explored how insights generated from eCargo bike sensors can help City transport planners design more suitable urban environments and, through a trusted data aggregation and sharing process, foster more collaboration between companies involved in the business of local delivery.
The trusted computing workshop, in particular data anonymisation, helped Data Cargo to think through ways of securing the privacy of riders and their commercial relationships while collecting and sharing data. Adopting a robust approach to anonymising data would allow  them to think about new models for data sharing with stakeholders who currently would be unable to access the data.
If you are interested to find out more about this data collaboration, please read their final report summarising their experience in the Peer Learning Network, and watch their ODI Fridays Lunchtime Lecture: Making local deliveries safer, cleaner, and healthier
The misuse of data can cause harm, and lead organisations to avoid collecting, using or sharing data to avoid risks. To overcome this, building trust and trustworthiness is key to creating value and enabling effective data sharing between organisations. Developing effective data governance frameworks can help mitigate the harmful effects of data and can build trust to realise the value of data, by safeguarding the rights of those sharing, accessing and using data. 
The third workshop, presented by the international law firm Pinsent Masons, focused on data sharing models, agreements, and licensing. Through working hands-on with the data collaborations, Pinsent Masons encouraged the participants to consider issues such as  transparency, accountability, compliance, and liability.
MaaS-Peer
Maas-Peer is a Norwegian data collaboration led by ITS Norway. It combines both public and private stakeholders across the mobility sector. Their project was about identifying and overcoming barriers that stand in the way of creating a trusted environment to share and access data to operate a successful mobility as service (MaaS) network.
The responsible data sharing workshop was pertinent to the collaboration to overcome a lack of data sharing across their data ecosystem. To do this, MaaS-Peer will have to showcase the value of data sharing for all stakeholders, and mitigate risks (related to commercially sensitive information and the distribution of revenue from the collaboration) through well-designed data sharing agreements and contractual protections.
If you are interested to find out more about this data collaboration, please read the final report summarising their experience in the peer-learning network.
Fintech Innovation Data
Fintech Innovation Data is a data collaboration between Open Data China and AI SPACE. It aimed to support the development of shared financial models to enable innovation by allowing SMEs to have secure and controlled access and use of financial data for machine learning and business analysis purposes.
A key challenge was to build trust between different stakeholders, including data providers and prospective users. Herein, there is a need for agreements to clearly define what data users can do with client data, including how they may commercialise the outputs from their use of the data. The responsible data sharing workshop helped them to think through this challenge by looking at how a combination of privacy preserving technologies and a robust legal and governance framework will demonstrate trustworthy use and management of data.
If you are interested to find out more about this data collaboration, please read their final report summarising their experience in the peer-learning network, and watch their ODI Fridays Lunchtime Lecture: Open data and China – a ten year review.
Access to data is a crucial enabler for innovation. Organisations looking to collect, maintain and share data in trustworthy ways will need to identify and adopt a business model that sustains these activities. As we reached the end of the peer-learning network, it was important to support the participating data collaborations to make informed decisions about revenue models as they considered their next steps. 
To assist the peer-learning network in achieving long term financial sustainability, the final workshop utilised the ODI's Sustainable Data Access Workbook. This approach provided the data collaborations with a practical set of guidance to think through their business model and identify new opportunities to make informed decisions about how to plan and develop financial sustainability long term.
Open Data for NCDs
Open Data for NCDs is data collaboration between iKure, Microsoft, CliniOps and McGill University. They aimed to create an open data access framework for early response to non-communicable diseases (NCD) in India, and develop a learning healthcare system through integration of real-time patient data with advanced AI modeling to create early response for NCD management.
As an established data collaboration, Open Data for NCDs found the sustainable data access workshop useful to explore new methods of revenue generation. They used the workbook to map out how to develop new revenue streams and identified the importance of gaining stakeholder buy-in and developing a robust data governance framework to do so. Following on from the workshop, they have started to engage with their partners to develop a plan to implement this.
If you are interested to find out more about this data collaboration, please read their final report summarising their experience in the Peer Learning Network, and watch their ODI Fridays Lunchtime Lecture: Access to the right health data for public good
Conclusions
Trust between participants in a data collaboration, as well as with their stakeholders, is a critical factor in the data collaboration's success. It influences how different partners engage with one another, the types of activity they undertake and stakeholders willingness to share data. Yet many of the data collaborations only started to realise the importance of trust and trustworthiness for developing a healthy data ecosystem through the peer-learning network.
We're pleased that our approach to supporting peer learning through this and other networks, and providing stimulus funding to support new data initiatives, is helping them to achieve their objectives. Many of the participants in this peer-learning network appreciated the opportunity to learn from each other and the workshops led by the ODI and Microsoft team. We're looking forward to seeing how these data collaborations apply their learnings from this experience over time.
What's next?
We take on a second cohort of data collaborations later this year. This will provide support to a further five data collaborations and enable them to share and learn from each other. We also aim to publish a report to share our overall experiences and the resources on data sharing we develop at the end of the programme in March 2022. Details and ways of how to apply for the new peer-learning network will follow soon – watch this space!