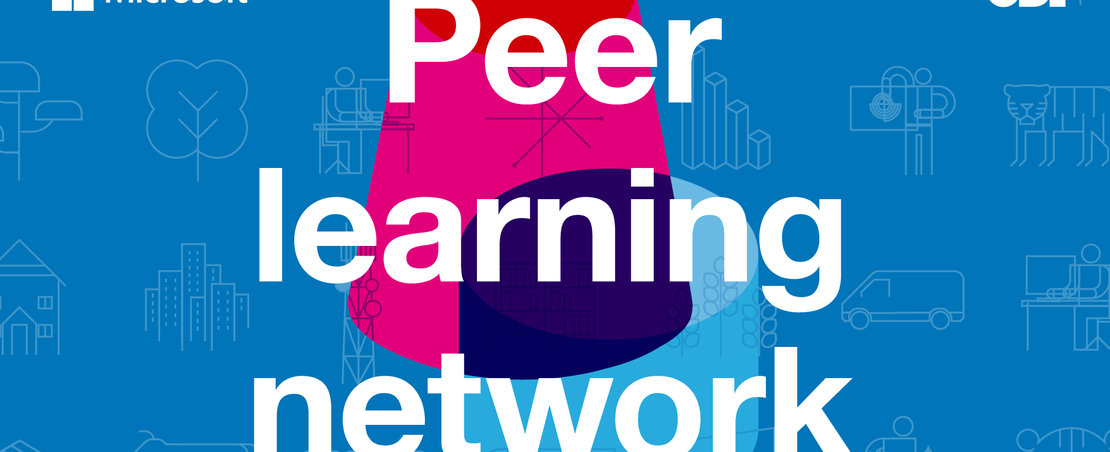 The ODI has selected six collaborations who will receive funding and guidance from the ODI and Microsoft, to more effectively address the challenges they face.
Earlier this year we published an open call in partnership with Microsoft for a peer learning network for data collaborations. The peer learning network is designed to convene data collaborations to enable them to learn from one another.
Our approach
We have partnered with Microsoft to launch its Open Data Campaign, which aims to address the data divide and help organisations of all sizes to realise the benefits of data and the new technologies it powers.
As part of the campaign, Microsoft seeks to bring about and support data collaborations, particularly those that address significant societal and economic challenges.
Data sharing and collaboration is hard, and in our experience, many of the challenges faced by the people and organisations trying to build data collaborations are common. For example, many data collaborations have to address technical and governance challenges, and many struggle to sustain themselves financially in the long run.
We've launched a peer learning network that convenes organisations collaborating around data, providing them with financial and other support from the ODI and Microsoft – ultimately enabling them to more effectively address the challenges they face.
The network will provide the data collaborations with opportunities to share and learn from each other, in particular to explore issues associated with trust and trustworthiness between participants and other stakeholders.
The winners
Caring for Equality in Buenos Aires' Labour Market – Open Data Charter
The Open Data Charter has partnered with the Center for Global Development and the Government of Buenos Aires City in Argentina on a data collaboration which aims to address the gender pay gap by opening up data on care-related tasks, allowing for more access and exchange of information to underpin public dialogue and policy making.
Data cargo – The Data Place
A collaboration between social enterprises based in Plymouth, UK will be looking at how insights generated from eCargo bike sensors help City transport planners design more suitable urban environments and, through a trusted data aggregation and sharing process, foster more collaboration between companies involved in the business of local delivery.
MaaS-Peer – ITS Norway
A collaboration of eight experienced Norwegian partners working on the  conceptual and operational development of MaaS (Mobility as a Service). The collaboration aims to understand the barriers that exist to develop a fair business model and create a trusted environment to share and access data to operate a successful MaaS.
Open data for NCDs – iKure
The aim of this collaboration is to create an open data access framework for early response to non-communicable disease (NCD) management. They will collaborate with Microsoft, CliniOps and McGill to develop a learning healthcare system to maximise the potential of AI in the treatment of NCDs.
Packaging reuse data – Reath and Zero Waste Scotland
Impact startup Reath and NGO Zero Waste Scotland are partnering to investigate the opportunities that emerge from sharing packaging reuse data. The collaboration will explore the potential to impact government policy, circular business models, and academic research, and ultimately progress the overall adoption of a circular economy.
Shanghai FinTech Innovation Data Collaboration – Open Data China
Facilitated by Open Data China and AI SPACE, this data collaboration aims to support the development of shared financial models to benefit the Finance sector. The mixed-sector collaboration hopes to enable innovation by allowing SMEs to have secure and controlled access and use of financial data for machine learning and business analysis.
Jeni Tennison, Vice President and Chief Strategy Adviser at the ODI, said: 
'It was exciting to see such a diverse range of projects, from across the globe, wanting to come together to learn from the ODI, Microsoft and, most importantly, each other. The selected data collaborations will seek to use shared and open data to tackle key global issues, including climate change, gender equality and disease control. This peer network should both help them to succeed and provide real world insights into what it takes to have a successful collaboration around data.'
Jennifer Yokoyama, Vice President and Chief IP Counsel at Microsoft, said:
'We're delighted to bring together this first cohort of data collaborations for the new peer learning network in partnership with the ODI. The awardees are working on impressive and foundational work across domains and geographies. By assembling these data collaborations we can learn from each other and experts in data sharing, to ultimately help organisations that are looking to get more value from their data.'
Background and funding
This work is part of our three-year partnership with Microsoft, running until April 2023, and runs alongside two other streams of activity:
Microsoft joined our Commercial Partnership Programme as part of its Open Data Campaign which aims to 'address the looming 'data divide' and help organisations of all sizes to realise the benefits of data and the new technologies it powers'.
Get involved with the ODI
Are you looking to join a network or learn new skills with data? We have an ODI Membership network (from £100 per year), and we run courses throughout the year.