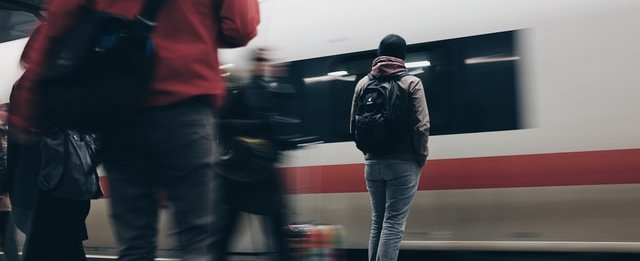 How can public and private sector data help address problems during the pandemic? And can mobility data demonstrate the impact of government and social restrictions on the movement of people?
Data describing people's movements from one location to another – and the mode of transport used – is known as 'mobility data'. The collection of such data is nothing new: before the widespread use of mobility tracking technology, cities that wanted to count vehicle movement paid transportation consultants to stand on corners and keep tallies.
New ways of operating transport, such as bikesharing and ridesharing, and new ways of accessing transport, like journey planners and smart ticketing, are changing the sector and creating new sources of data. With the ever-increasing volumes of collected data, many are now wondering whether this data can be helpful in understanding and mitigating the ongoing coronavirus pandemic.
This work is part of an ongoing Luminate-funded Covid-19 project looking at what data is being used during the pandemic. As part of this work, we wanted to explore how public and private sector data can be used to address problems during the pandemic, and beyond.
Understanding when and how people move is hugely important particularly when there is a lockdown. With a lot of mobility data being collected and published we wanted to see what that data is, how it is collected and how it can be accessed/shared to help with pandemic decision making. This is our first blog post about mobility data and Covid-19; future work will focus on what mobility data users need and the barriers they may face.
Whose movements are being tracked? And how?
People move, and how they choose to move – by foot, bike, car or train – will leave some digital trail.
This digital trail is of real interest at the current time as it can help us understand whether people are adhering to lockdown measures. It can help to identify how and where key workers travel; help explain the spread of disease when combined with geographical symptom tracking; and possibly assist with transport decision making. The data will be useful to make decisions about lifting restrictions and restarting the economy.
Vehicles can be tracked via traffic cameras and GPS data. The companies behind newer methods of travel such as micromobility vehicles (such as dockless bikes and scooters) and ride hailing services (such as Uber) will have access to data about type and number of users for their services, and locations that the bikes, cars and scooters are desired.
People will generate mobility data about their movements through tagging locations on social media, using apps which collect location data such as mapping apps, through interacting with wifi beacons, or in some cases from bluetooth, GPS or mobile phone records.
The collection of all of these data sources may not be technically or ethically feasible, or be practised by towns and cities, but in many cases the infrastructure exists for large volumes of mobility data to be tracked.
Who collects mobility data and who publishes it?
Both public and private organisations collect mobility data. Big tech companies, such as Apple, Facebook and Google have all published data, as have many mapping companies such as TomTom and Citymapper, as well as public authorities like council, and research and academic institutions.
There are several scenarios for how this interaction may work:
a public organisation procures a private company to do the technical collection of data, but this data is shared back to the public organisation which stores, analyses and shares this data
a private company runs its own service and collects data about that service, such as passenger numbers or user locations. The private company may publish this data, such as Uber Movement, or public organisations may try and negotiate access to this data.
A public authority runs a service themselves and collects data about users. It may share this or publish it on a portal.
Every country, state, city, or area will have its own dynamic. What is important in the ecosystem is that there is communication and collaboration between the public and private sector, so that the data that is needed to make important decisions can be accessed by the right people. Rather than simply asking for as much data as possible, public and private actors could enter into partnerships for specific datasets, to exchange this data for insights or some other financial or non-financial benefit.
What mobility data has been published and what does it tell us?
When the world isn't in the midst of a public health emergency 'understanding how people move in the urban area is important for solving urbanization issues, such as traffic management, urban planning, epidemic control, and communication network improvement.'
A previous ODI report on the use of personal data in transport pointed to three potential benefits of sharing mobility data:
Increasing accessibility and personalisation for passengers
Improving operational efficiency and innovation for organisations
Tackling systemic transport issues for the benefit of everyone
But during the Covid-19 pandemic this data has a much more urgent and immediate need.
According to a Science Advances article, 'Control of the pandemic requires control of people – including their mobility and other behaviors.' Around the world, people of all ages have been confined to their homes following government orders in many countries to only go outside for what were deemed as essential activities. Understanding how people are moving is therefore important for government authorities, transport planners and epidemiological researchers – as well as others – to understand the effects of the pandemic and policy actions. But good policies and good decisions cannot be based on hearsay or anecdotal evidence: robust data is required.
Published mobility data: grouped by what it can tell us during the Covid-19 crisis
Examples
Sources:
Analysis:

The Citymapper Index shows that as of the 28th June, 28% London is moving compared to usual.
CityMetric used Apple data to show a 90% drop in requests for walking directions compared to pre-quarantine in Rome, 83% in Paris and 61% in London.
How this can help decision makers
This data can be a useful indicator for movement. Due to the ease of access to the data from Citymapper, Apple and others they offer quick and understandable insight.
However, this data is only indicative of movement. The data from the Apple and CItymapper mobility reports is generated when the user requests directions. It therefore includes those who looked at directions and did not proceed with the journey, as well as those who did.
Types
Mobile phone data (including network, bluetooth beacons and Wifi tracking) 
GPS coordinates and location tracking
Examples
How this can help decision makers
Academic research points to the use of mobile phone data, a form of mobility data, being useful to government and public health authorities. Arrangements to access mobile phone data are already in place in the likes of Germany (Deutsche Telekom) and Italy (Telecom Italia, Vodafone and WindTre). 
Mobile phone data can be used in the coronavirus pandemic to understand the volume of the population moving, to answer cause-and-effect questions on different control mechanisms such as lockdowns, to predict future needs, risks and opportunities and to overall assess the effectiveness of different types of intervention.
Types
Transport payments and smartcards
Examples
How this can help decision makers
With lockdown restrictions being eased and people starting to return to work and leisure activities, there is going to be an increased use of public transport. Transport planners will need to understand the volumes using transport so they can ensure that they can strike a balance between safety and efficiency.
Types
Traffic cameras and sensors
GPS coordinates and location tracking
Microbility sensors (from shared bikes and scooters)
Ride-hailing app data
Examples
Transport Scotland reported that traffic at the tourist and leisure hotspot of Loch Lomond was up by 200%, 30–31 May, compared to the previous weekend
How this can help decision makers
Traffic data initially could be used to demonstrate the dramatic reduction in congestion rates across towns and cities. But now it is useful to understand and manage the exodus of people to tourist and holiday destinations.
Traffic data such as that produced by TomTom can also be used to compare cities across the country (and the world) to assess the status of lockdowns and comparative movement.
The variety of sources here can make it a challenge to get a complete view of movement. The value is likely in a combination of mobility data sources (such as the London Datastore Mobility report), alongside other indicative data such as card payment data to show wider patterns such as economic activity on high-streets, such as the Centre for Cities High Streets Recovery Tracker and Geolytix Retail Recovery Index. Safegraph uses footfall data to demonstrate consumer activity, in a similar manner in the US.
This list is not supposed to be exhaustive, but instead is used to demonstrate the numerous ways in which mobility data can be analysed. We will explore further uses of mobility data in a follow-up blog post.
Increasing access to mobility data: next steps
The volumes of mobility data being collected now, particularly in cities are huge. The challenge now is getting this data, in the right format and frequency, to the people who need to make decisions based on it.
To tackle the ongoing Covid-19 pandemic, data will be shared more freely between organisations in the public and private sector than ever before. To enable this flow, there needs to be a clear communication of what data is being collected and what data is needed by policymakers, health authorities, transport planners and researchers. The COVID-19 Mobility Data Network – an international partnership between epidemiologists and tech companies – offers one model for making this collaboration possible.
Researchers, and others who need to, 'can and should use population mobility data collected by private companies, with appropriate legal, organizational, and computational safeguards in place.' The safeguards, which may include anonymisation and consent, are vital for ensuring that people are trustworthy with the data.
The ODI will continue to work with data holders so that they can publish data during the Covid-19 pandemic, such as through Octopub. We will also work with potential users of this data to understand what data they need to make decisions, improve infrastructure or research the effects of the pandemic.
We will continue our research into the value and impact of using mobility data to understand the effects of Covid-19 and lockdowns.