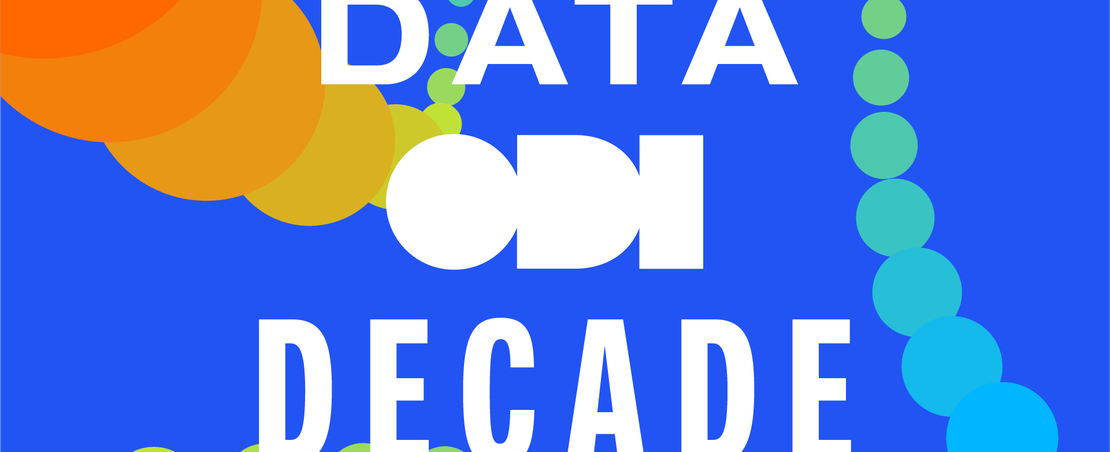 Video: Sir Nigel in conversation with ODI Director of Communication and Marketing, Emma Thwaites, discussing open data, the origins of the ODI, and what the future holds for data and the ODI
By Sir Nigel Shadbolt, Executive Chair & Co-founder of the ODI
Among all the seismic changes of the past decade – whether political, social or economic – it is worth reflecting on just how extraordinary the impact of open data has been since we founded the Open Data Institute (ODI) in 2012. There's no doubt that open data is enjoying a renaissance in popular discourse. Yet for some of us, the work has continued, unabated. It's not always glamorous, but the results can be remarkable.
In the early days of the ODI our then-CEO, Gavin Starks remarked that: 'Open data holds huge, largely untapped potential to change the way we function as a society'. So, what have been the highs and lows in the 10 years since we opened our doors?
Government momentum
Back in the final days of the Blair Government, the 2007 Power of Information Report argued that the public sector held a huge amount of information that could and should be released. On 21 January 2009, his first full day in office, President Barack Obama signed an executive order and two presidential memoranda heralding what he called a 'new era of openness' seeking to publish more government information. Later in 2009, in something of a race to the top, the UK launched its own open data initiative. That year and into 2010, Tim Berners-Lee and I were working with Gordon Brown's Government to publish datasets at scale and set up the data.gov.uk website. 
Open data across the political spectrum
Open data works for governments across the political spectrum. Those on the left, in the centre and on the right, usually have shared democratic interests in maintaining and promoting transparency and accountability, as well as improving participation and the efficiency of public services. In a 2009 pre-general-election speech, soon-to-be Prime Minister David Cameron spoke of the potential for crowdsourcing in the scrutiny and analysis of government data. 'Just imagine the effect that an army of armchair auditors is going to have on those [MPs'] expense claims' he mused. It was notable that a variety of open data commitments survived the change of government with new ones being made. In 2010, Francis Maude, Minister for the Cabinet Office expressed his belief that many performance and efficiency improvements in government could be realised through the publication of open (public sector and government) data. The Coalition government of 2011 gave the go-ahead for the initial Treasury funding to set up the ODI. 
And Liz Truss, speaking at the ODI in 2015, recognised data as 'one of our most vital resources', noted that 'the economic returns of open data are huge', and said that data 'will galvanise innovation, competition and productivity in the wider economy'. 
The data spectrum
Over the years, the ODI has evolved to encompass many species of data, which we describe in our data spectrum. We recognise that to make policies and technologies work synergistically, we must work across this data spectrum – in data large and small, public and private, closed, shared and open. However, we have always believed that the best possible foundation is to have as much open data as you can reasonably maintain and make available.
The social and economic value of open data
We have seen much value – economic and social – derived from open data in the past ten years. The Covid-19 pandemic highlighted this value, with the opening up of medical research and public health data, contributing to the faster development of vaccines and treatments, and the tracking and management of emergent variants. The ODI's own work with big data start-up Mastodon C, NHS start-up Open Health Care UK and Dr Ben Goldacre highlighted how publicly available NHS prescriptions data could be used to identify vast savings within the NHS. open data is at the heart of the ability to disseminate scientific knowledge and to reproduce it.
One of the most significant open data success stories in the UK has been the opening up, by Transport for London (TFL), of unified data about the transport network. Businesses such as Waze, Citymapper, and Bus Checker have been built using this data, which has also been used in academic studies and by non-commercial customer-facing organisations. The most recent figures suggest that the release of the TFL data alone has created annual economic benefits and savings of up to £130m for travellers, TFL and businesses in London.
Meanwhile, the Open Banking movement which grew out of an initial working group, convened by HM Treasury and co-chaired by the ODI and Barclays, now has 4.5m UK users. Open Corporates, which was one of ODI's first cohort of startups and strives to make company data open for all, now publishes information about 209m companies in 141 jurisdictions.
Data and the media
The media has always had a particular affinity for open data and we now have an entire practice of so-called 'data-driven' journalism. Many of the sources that the media depend upon are what we would call open data. Again, the pandemic grew the media and public interest in key data published by, for example, the Office for National Statistics. 
Unfinished business?
We have come a long way in many areas, although, in others, open data is unfinished business. In the UK, we still haven't got an openly available dataset comprising the country's legally recognised addresses. This is a fundamental part of our national data infrastructure, and it should be available as open data, which would, in turn, unlock huge potential for new businesses and services to the benefit of people across the country. 
Environmental data, especially data about pollution is another area where the nation is missing out. The UK has done well in publishing open data on air pollution but the same cannot be said for water. Were river quality data to be made available as open data at high resolution and with high spatial granularity, then it would have the potential to improve overall water quality and better support the delicate ecosystems that exist in our waterways.
There have been other less successful initiatives. The much-trumpeted European Open Data Directive came into force more than a year ago, with the aim of getting member states to publish registers of official company data. This is designed, as the founder of Open Corporates Chris Taggart has said, to protect Europe's economies and democracies from the impact of 'dirty money' – from lobbying and campaign contributions to inflated property prices.
Despite a lengthy process to get the Directive enshrined in law, progress has been slow. Significantly, this has arguably made dealing with Russia's investments in the West in the context of their invasion of Ukraine much more challenging. The ODI is one of 127 signatories to a statement that publicly called on the European Commission to urgently 'open up all company and beneficial ownership registers across the EU to the public'. Only by doing so will the full extent of Russian oligarchs' assets and financing in Europe be fully known.
Trusted open data 
There is still much to do, but we have undoubtedly proved, through initiatives like open banking, that important regulated sectors can be opened up in a trusted way. One that allows third parties to offer services and innovate at scale. I am very proud that the ODI was a part of that systemic sector-wide change, and I look forward to seeing what can be achieved as more parts of our society and economy embrace the opportunities offered by open data. 
Sir Nigel Shadbolt is Executive Chair & Co-founder of the ODI