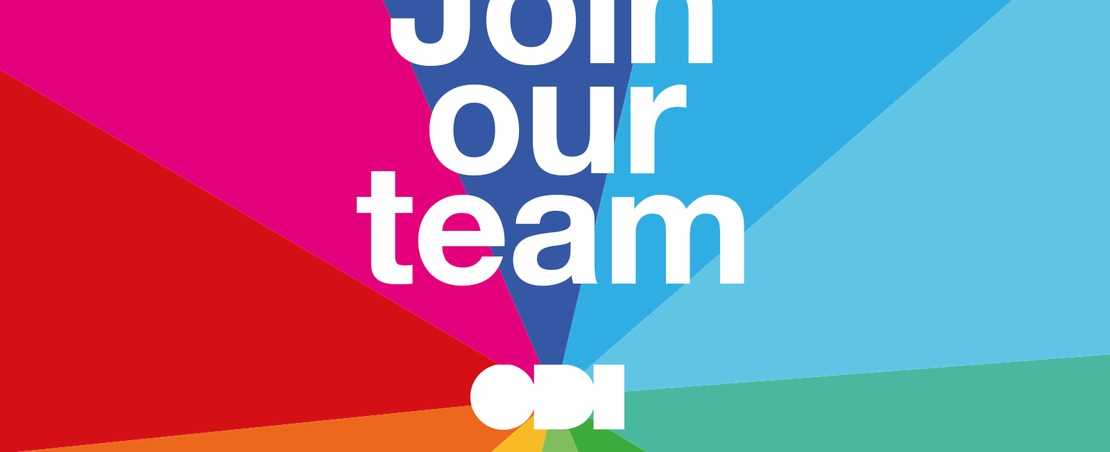 — Updated: January 2023 —
Applications for the 2023 cohort of ODI Fellows have now closed. The next call for ODI Fellows will be announced in early 2024, with the intention for Fellows to begin their research in late Spring/ early Summer 2024.
The Open Data Institute (ODI) is inviting researchers investigating topics related to data, its value, management, uses and impacts to apply for an ODI Research Fellowship.
For this cohort we are particularly interested in applications for research related to the value of data. We want to bring together a small group of researchers with different perspectives and areas of expertise related to the value of data so that they can build off of and compliment each other's work. Potential areas of research include, but are not limited to:
Different approaches to estimating the economic, social or environmental value of data, both in general and in specific contexts, such as the use of proxy valuations to determine value, analogous to how the impact of new transport infrastructure is determined by looking at 'travel time' or how the economic benefit of culture is assessed;
Whether and how the value of data changes when it is shared and used in contexts and for purposes different to those for which it was originally intended, eg the health sector, utilities sectors or cities;
Whether and how it is possible to estimate the value of environmental, social and governance (ESG) data;
The role of social and economic incentives in encouraging individuals and organisations to share data, including data altruism, the use of financial incentives, and offers of benefits in kind.
The ODI is a not-for-profit organisation that has expertise, a strong voice, and influence in our field. Our mission is to work with companies and governments to build an open, trustworthy data ecosystem, where people can make better decisions using data and manage any harmful impacts.
Supporting this mission will take a broad and diverse body of evidence and knowledge. That is why we conduct such wide-ranging research, often in close collaboration with partners and funders. It is also why we have been developing a programme to support scholars researching topics relevant to our domain and mission.
The ODI Research Fellowship programme offers researchers the opportunity to work with the ODI team and be connected to the businesses, public sector bodies and other organisations that are part of the ODI's network.
We are currently welcoming applications to join us as an ODI research fellow. The deadline for applications is 28 February 2023.
Who is this for?
ODI research fellowships are primarily open to individual researchers with existing research funding, and researchers otherwise supported by their employer/academic institution.
It's been valuable working outside of the academic bubble and creating work that hopefully has more immediate impact
– 2020 ODI research fellow
Our research fellows therefore enjoy support from ODI staff and gain exposure to a broad, rich network of peers and world experts beyond the typical academic – or industrial – research setting. Previous fellows from academia have expressed that working with ODI allowed them to be more impact focused and to publish initial findings more quickly than is often possible through academic channels. Fellows from industry and government have expressed that they benefited from access to top academic thinkers in their field.
Most of the ODI's team is based at our London, UK headquarters, but we do not require you to be a UK-based researcher or hosted by a traditional academic institution. While UK-based fellows will be welcome to collaborate in person in our London offices (dependent on Covid-19 restrictions), we welcome applications from potential fellows wherever you are. We can, for now, only support research conducted and to be published in English, however.
Funding and value
We are pleased to be able to cover research-related expenses, as well as offer in-kind access to the expertise of our team of researchers, consultants, policy experts, editors, designers and communications specialists.
An ODI fellowship is not a research grant, however. ODI research fellowships are primarily open to individual researchers with existing research funding, and researchers otherwise supported by their employer/academic institution.
The value of an ODI research fellowship comes from gaining access to the ODI's expertise as well as the opportunity to connect with our expanding network of current and former researcher fellows and our vibrant network of ODI members. Fellows also benefit from the potential for collaboration and overlap with research conducted by us and our partners in academia, industry, government and civil society. Research conducted through an ODI fellowship is richer as a result, and can create impact well beyond a researcher's primary circle.
We know that this requirement for independent funding is a barrier to the opportunity of working together. We intend to get rid of this barrier in the future by working with partners and funders to offer financial support for high-quality research aligned with the vision and mission of the ODI – do get in touch if you would like to help us reach that goal.
Duration and commitment
An ODI research fellowship can last between three and 12 months, depending on the scope and pace of the research you would like to conduct in collaboration with us. If feasible, we would expect you to start in the first quarter of 2023 in order to more closely align your work with other members of your cohort, but we can be flexible with your start date where needed.
As a fellow, you will work under guidance and in collaboration with a senior staff member who will serve as your ODI supervisor. We expect you to produce at least one output – such as an academic paper or long-form blogpost – during your fellowship, to be published under as open a licence as possible.
Fellows will be selected on the basis of alignment with ODI's research interests, and the quality and feasibility of their research plan. We are accepting applications for any area of research related to data, its value, management, uses and impacts, but we are especially interested in applications for research projects related to the value of data.
How to apply
To apply, please fill in our application form [opens in a new tab]. As well as your basic details, you will need to provide:
Your CV
Details about how you intend to use the fellowship – including a plan of the research you want to carry out and your suggested start date.
Details about expenses you would require the ODI to cover to make your fellowship a success
For senior scholars and independent researchers: references of published work in professional publications
For researchers in academia: a letter of recommendation from an academic supervisor
If you have any questions, please email [email protected].