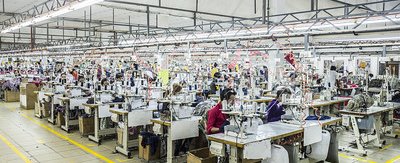 The Data Institutions Register is a curated, living repository of data institutions from around the world. With funding from Humanity United we are exploring data institutions in new areas and aiming to increase the diversity of the organisations in the register
Data has become central to the supply chains and labour rights space, with an increasing number of tools and initiatives relying upon it. Despite this, labour data is not widely available, accessible, usable or open.
At the ODI, we have been exploring the role that data institutions play in stewarding data on behalf of others, often towards public, charitable or education purposes. We have undertaken a short research sprint to consider the role that data institutions play in stewarding data to protect workers rights, develop transparent supply chains and support worker empowerment.
Notable additions to the register
The Data Institutions Register previously included some data institutions working in this space, such as Open Apparel Registry, Wikirate and Worker Info Exchange. Through this research sprint we have come across 31 further data institutions. Some notable additions include:
Fashion Revolution, a fashion activism movement, which stewards the Fashion Transparency Index. The FTI contains information on 250 of the world's largest fashion brands and ranks them according to what information they disclose about their social and environmental policies, practices and impacts, in their operations and supply chain.
Sedex, a membership organisation, that provides online platforms for companies to manage and improve working conditions in global supply chains.
Workerbird, an app which enables workers to collect data on their working patterns and use the visual insights generated to make better working decisions.
You can find out more about these data institutions and others that we found by filtering the Data Institutions Register using the 'Sprint #1: Supply Chains and Labour Rights' view on the left hand side of the page.
Data institutions in the north; data itself from the south
Through our research we noticed that many of the data institutions working in this space are US or European-based, but collecting data from subjects typically based in South Asia – in countries such as Bangladesh or Indonesia. It is likely that this mirrors the makeup of major companies' global supply chains which heavily utilise manufacturing in these countries. At the ODI we've been thinking about data flows from the Global South to Global North, and the need to remain aware of the historical, social and economic contexts in which global supply chains involve and impact the Global South.
As such, several of the data institutions that we interviewed were considering ways to rebalance the power structures of their operations to try to avoid reinforcing existing global inequalities, and if possible, address and challenge these inequalities. These methods included making an effort to translate material and platforms into multiple languages, and hiring staff within country contexts to increase the understanding around each specific countries context.
When data subjects – in the broad sense, rather than data subjects as per data protection regulations – are based in Europe or USA, then the data institutions we found tended to be more bottom-up/grassroots initiatives where workers volunteer data about their working habits, often through apps such as workerbird or Driver's Seat. But the recent attention brought to the working conditions in factories in Leicester (England) demonstrates that despite stronger regulation and enforcement, labour abuses and exploitative working conditions continue to occur all over the world. Better data collection and use has a role to play at the global scale.
During our conversations with experts, the Rana Plaza disaster – in Bangladesh in 2013 which shockingly exposed the poor labour conditions and the associated lack of transparency in global apparel companies – was cited as a motivator for the increased use of data in labour-rights supply chains. This mirrors the effect that other disasters and scandals have had on spurring transparency or data projects, such as the earthquake in Christchurch. These kinds of incidents can shake an organisation's views that data is something to 'hoard', and also shows that worker safety, and data sharing to understand and improve it, is pre-competitive.
We also observed several initiatives that, although doing interesting work, did not meet our definition of data institutions. Initiatives such as Traffik Analysis collect, share and use data for a social purpose but do not have the organisational footprint to be considered a data institution, whereas some projects and organisations – for example, advocacy organisations like Solidarity Center or GoodWeave do not steward data themselves. But data institutions are only one piece of the puzzle. We expect to see a variety of organisations and initiatives working together with data to push towards better standards for workers around the world.
These points warrant extra research and discussion, and we would welcome any comments from people and organisations working in this domain.
Trust in data collection
While the nature of our research was not to analyse the ethics of these data institutions' practices, it is worth reiterating the importance of trust in the collection of data. Workers need to trust and feel empowered by data collection; just as it can be used for good as in the examples we've described here, it can also be used to surveil, discriminate or abuse.
And while our focus on data institutions for labour rights and supply chains has ended, we will continue to look out for interesting examples to add to the register and we're always open to suggestions: please fill out the form here.
Our next research sprint will be focusing on unearthing data institutions tackling climate issues such as water-resource management or encouraging citizens to collect pollution data. If you are aware of any examples you'd like us to include, please add them to the community suggestions form, or email us. We will be publishing a blogpost about our findings from this next sprint in November.
Further reading: