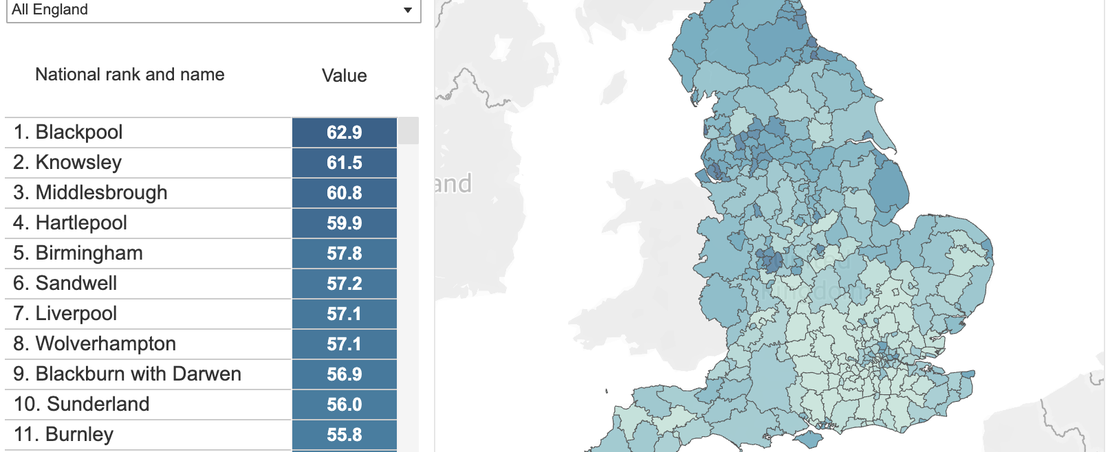 What is the fuel poverty risk index?
The fuel poverty risk index is a unique look at fuel poverty, drawing on 12 distinct datasets - and four supporting datasets - to help understand the scale and depth of fuel poverty across England. It allows users to compare data nationally and at local authority level and is free of charge for anyone to use.
The ODI's latest data analysis - comparing its 2022 and 2023 fuel poverty risk indexes - updates on the ODI's Fuel poverty and data infrastructure report and traces the impact of government intervention and payment schemes from 2022-2023, including the end of universal help in April 2023, on different local authorities in England. 
Use our fuel poverty risk index
This digital tool (created by Mime Consulting) brings together multiple datasets on fuel poverty and allows users to explore this data at a national, local and local authority level.
Why do we need the fuel poverty risk index?
The fuel poverty risk index is a data visualisation tool that highlights the impact of fuel poverty and drills down to local authority areas, showing which locations are at the most risk of fuel poverty. The 2023 index also reflects the increase in benefits claimed across England, where the average proportion of residents claiming Universal Credit increased from 13.2% in 2022 to 14.2% in 2023.
Official data is likely to significantly underestimate the number of people in fuel poverty. ODI analysis in September 2023 identified that as many as 3.6 million people are missing from the official data about fuel poverty, due to the way fuel poverty is defined in the Low Income, Low Energy Efficiency (LILEE) indicator. This specifies that only homes with an EPC rating of D or below can be counted, even if their occupants are struggling to pay their energy bills.
Explore the data and our methodology