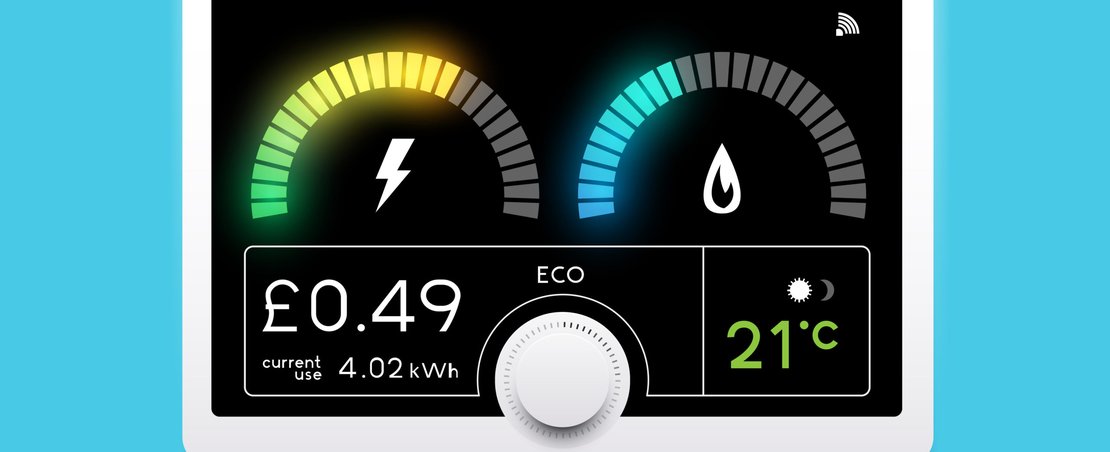 Summary
The Data Communications Company (DCC) is a licensed monopoly set up to design, deliver and manage the smart meter system in Great Britain. This supports the digital backbone of Britain's energy infrastructure. When complete, 30m homes and businesses will be connected to a single, secure, smart metering network.
DCC is currently launching a data access initiative to improve access to smart meter system data. In its discussion paper 'Data for good', DCC proposes that organisations should work together to improve access to data about the smart meter system. This could then be combined with data from other organisations to address some of the big challenges facing the UK, such as reaching net zero, transitioning to a flexible energy system and reducing fuel poverty.
In this case study, we outline how the Open Data Institute (ODI) has been working with DCC to support this initiative. Leveraging our expertise in supporting data access initiatives, we have provided expert guidance, practical tools, and connections to the wider ecosystem to explore the opportunities and barriers to improving data access in the smart meter ecosystem, and what DCC needs to do to deliver real impact.
Facts and figures
DCC is a licensed monopoly and non-profit organisation in charge of rolling out the smart meter network in Britain - there are currently 19,895,895 smart meters on the network as of April 28, representing 12,113,218 homes
DCC is a data processor for the 'system data' that flows across the network. This is distinct from consumption data – like metadata, it is data about the messages but not the content of the message
System data can be used to power services and provide insights to help decarbonise the UK and achieve net zero
DCC is launching Data for Good – a data access initiative to increase access to smart meter system data to deliver on national goals for the energy sector
DCC estimates that 578,212 tonnes of CO2 emissions have been saved so far through the smart meter rollout
The challenge
The energy sector is undergoing unprecedented change – from the accelerating climate crisis, to the record rise in global gas prices. The UK and other wealthy nations need to reduce CO2 emissions dramatically by 2050. This would mean switching from fossil fuels to renewable energies like solar and wind, and replacing petrol and diesel cars with electric vehicles – which the UK has pledged to do for all new vehicles by 2030.
The energy sector needs to adapt – and data has a huge role to play. When data is more open, more people can access, use and share that data, to create solutions to problems and make better decisions. Access to energy data could be integral in solving some of the major social, economic and environmental challenges we face, like reaching net zero or addressing fuel poverty.
The emergence of Covid-19 demonstrated the need for data that is more open, good quality, and is being accessed, used and shared collaboratively to drive innovation to combat an immediate global threat. The same data requirement is critical to tackling the climate crisis.
With this in mind, DCC is launching Data for Good – a data access initiative to increase access to smart meter system data. By 'system data', we effectively mean the metadata about the typical transactional data we think of when imagining the smart meter data ecosystem. System data can be used to power services and provide insights – from addressing fuel poverty, to electric vehicle charge point deployment and green retrofitting – to help decarbonise the UK and achieve net zero.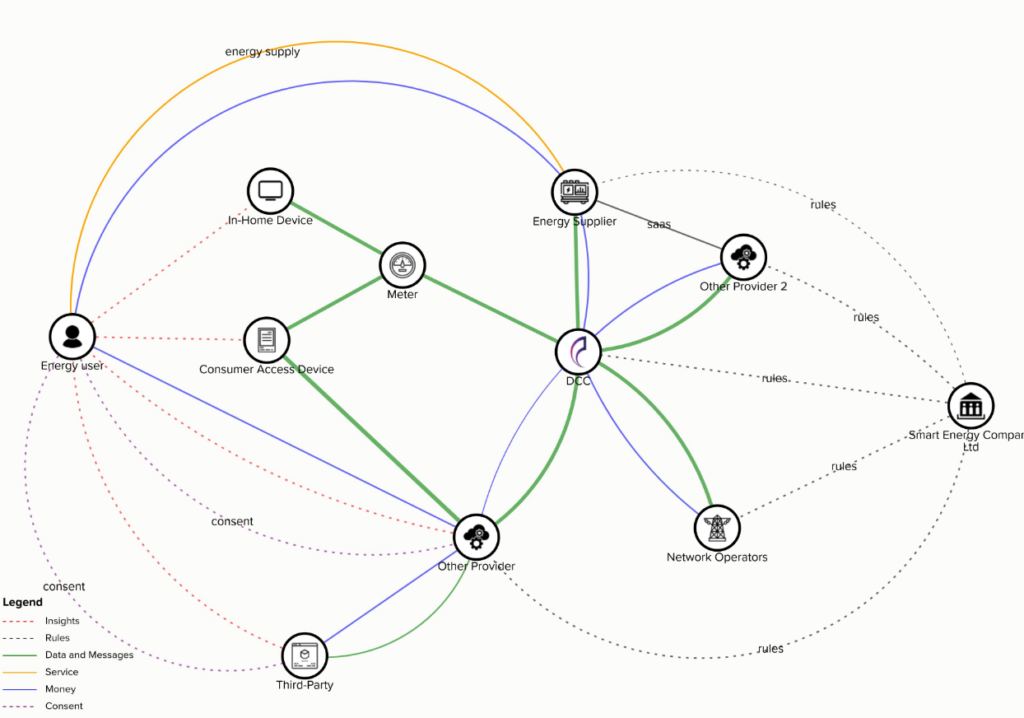 As part of the initiative, DCC needs to understand how best to provide access to energy data in a way that maximises benefits and minimises risks. Data for Good could incorporate both open and shared system data, and would have to ensure appropriate privacy and security. DCC also needed to understand how to make access to system data financially sustainable, as Data for Good would only charge to cover the costs of operation.
We worked with DCC to provide inputs into key areas for the Data for Good initiative: the ecosystem engagement strategy, the data access model, the development of compelling use cases, and input into the business case. By providing insights and recommendations across these different dimensions of the Data for Good initiative, we aimed to help DCC improve access to the smart meter data infrastructure in ways that benefit people and the planet.
Building open and shared data infrastructure for future generations to better understand, manage and consume energy is a huge opportunity to accelerate towards net zero and to build an equitable future energy market. The smart meter rollout in the UK represents a key part of that data infrastructure and requires responsible governance, strong security and a culture of innovation for us to realise its potential benefits.
– Stuart Coleman, Learning and Business Development Director, Open Data Institute from Unlocking smart meter data to accelerate the energy revolution (July 2021)
Our approach
The ODI is an expert organisation in data access initiatives like Data for Good – programmes that aim to address a clear challenge, involve multiple stakeholders, and include a strong focus on collecting, using and sharing data. Our experience with Open Banking and OpenActive has helped us understand how to use a suite of tools and activities that can develop a data access initiative in a way that maximises impact and minimises risk.
In order to do this, we took the following approach:
Developing meaningful public engagement, including the design of an expert advisory group
Developing high value data use cases through roundtables with representatives from industry, government, academia and nonprofits
Leveraging desk research and workshops with DCC and Energy Systems Catapult to help inform a data access model for smart meter system data
Using ODI tools around logic models and sustainable data access to help inform the outline of a business case for Data for Good
Responsible data access is at the heart of this challenge. Smart meter system data tells a story about the energy system that needs to be understood in order to make the decisions that will make energy more affordable for those in vulnerable circumstances, to improve services for consumers and businesses, and most importantly to help move the country away from fossil fuels to renewable energy sources and help achieve net zero.
Our work was informed by tools and research to help increase data access while retaining trust. The overall project was guided by our Data Landscape Playbook – a toolkit that ​​supports organisations working on data access initiatives, helping them tackle common challenges by conducting a 'data landscape review'.
To tackle the challenge of understanding how to make access to system data financially sustainable in order to cover costs, we also deployed the Sustainable Data Access Workbook – a practical set of activities to help organisations make more informed decisions about their current and future revenue models.
This was combined with our novel research on facilitating safe access to sensitive data in order to inform a data access model that is fit for purpose.
Impact
The journey to deliver on the benefits imagined in Data for Good has only just begun, but we are now in the perfect position to make this a reality. DCC and the ODI have built bridges across industries and levels of governments and into academia and the third sector, with many leading organisations ready to collaborate on creating impact from system data.
The engagement we envision with industry, consumers and the wider public will increase the uptake and use of smart metering, which we have already seen to reduce CO2 emissions by over half a million tonnes. We will continue to increase this engagement to make sure that the social, economic and environmental benefits of this initiative are not only felt in wealthy neighbourhoods, or among privileged demographics.
The use cases we have been developing are showing a lot of promise through initial consultations, wider research, and government-funded programmes. The Modernising Energy Data Applications initiative has already shown that smart meter system data can help more accurately identify those in or at risk from fuel poverty, resulting in the more efficient delivery of support schemes to those that really need them.
We are excited to see this impact grow as we journey into the next phase of Data for Good, where we'll be focusing on formal engagement with the sector, building out the data access model, and testing the use cases further. We hope that Data for Good might also look at how to incorporate consumption data in the future – we believe that system data can have a positive impact on our net zero ambitions, and that consumption data from smart meters will amplify this impact.
We look forward to seeing Data for Good deliver on its unique potential to play a vital role in the UK achieving net zero as we continue on this journey together.
– Angus Flett, CEO, Data Communications Company
Lessons learned
The position of the DCC within the energy sector – and the complexity of the sector more broadly – brought out some particular challenges.
One of these is communicating what 'system data' is: effectively, the metadata about the typical transactional data we think of when imagining the smart meter data ecosystem. This is distinct from the 'consumption data' that most people think of when thinking about data collection from smart meters, and it is 'system data' that is the current scope for Data for Good, not consumption data.
We found that use cases involve combining data, often from a number of different actors. When this was examined in the roundtables it became clear that smart meter data provides a UK-wide dataset that serves as dependable reference for modelling and decision making.
Data access initiatives are complex, often nascent, and may need to change course to adapt to circumstances. This has been true of ones that have been around for years, like Open Banking and OpenActive, and remains true of developing ones like Data for Good. The ability to be flexible, to seize opportunities as they come, and to move away from or delay pathways that were initially envisioned is critical to ensuring the success of the initiative.
Data access initiatives, although necessarily collaborative, are often stewarded by a single organisation, what we would call a data institution – organisations that steward data on behalf of others, often towards public, educational or charitable aims. As Data for Good matures, we expect to see DCC continue to grow into its own role as an energy data institution, with responsibility for facilitating safe access to sensitive data in order to meet our national and global needs around energy efficiency and decarbonisation.