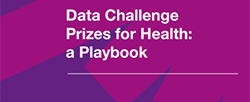 A challenge prize is one way of helping to drive innovative data uses and resolve some of the barriers to innovation by offering an incentive to a broad range of people to produce innovative solutions.
Data Challenge Prizes for Health: a Playbook provides information on how to identify a health problem and ensure it fits within the challenge prize model. It also provides a step by step guide on how to scope out the problem in more detail and design a challenge prize.
This was produced as part of a scoping project we undertook with Wellcome in 2019/2020. We will iterate on the Playbook through future projects, such as a current one looking at data infrastructure for common challenges (which is part of our four-year R&D programme).
Why use this tool
Running a data challenge prize can be a great way of producing innovative solutions to a problem. It's important to start with a well-defined problem and ensure it's scoped out in a thorough way to ensure you get the best results from your data challenge prize.
Use this playbook to find useful methods and tools for:
Verifying that your problem is suitable for a data challenge prize
Researching your topic area
Identifying and engaging with stakeholders
Creating a theory of change
Reviewing the legal, regulatory and policy context
Read 'Data Challenge Prizes for Health: a Playbook'