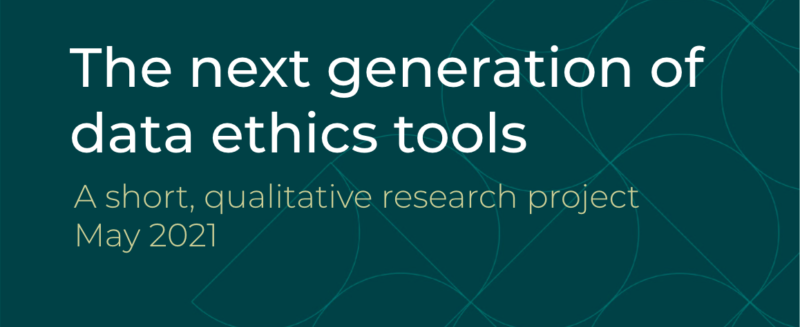 By Sam Brown and Alex Mecklenburg, Consequential
Over the past few years, organisations have been developing principles, frameworks and tools to help make technology and data practices more responsible and ethical.
In early 2021, alongside the Open Data Institute (ODI), we at Consequential – a responsible strategy and innovation agency – researched fundamental questions about the second generation of tech and data ethics tools. This involved exploring the current challenges and opportunities in this area to support the vision of a world where data works for everyone.
What we found
This research helped us to see some of the broad shapes and patterns of the tech and data ecosystem and its relationships to ethics tools in this moment. In our interviews with people across the tech and data ecosystem, we identified patterns based on repeated observations, feelings, and themes.
To capture our findings, we developed a presentation with three key sections: early tech and data ethics tools and their users; the evolving tech and data ethics landscape; and lessons for the next generation of tech and data ethics tools.
The next generation of data ethics tools
Early tech and data ethics tools and their users
The first generation of tech and data ethics tools aimed to bring awareness to the impact that technology and data could have on society. They were enthusiastically taken up by early adopters who were passionate about seeing change. We found that among these early adopters and champions, the motivation to address tech and data ethics was, and still is, personal.
These champions have various job roles, and come from across many sectors and many different types of organisation – there was no consistent characteristic across these early adopters and champions. The only constant seemed to be their main drivers for caring about ethics: being intrinsically motivated; or having lived professional experience of when things went wrong.
That got us thinking. We believe we are observing what Geoffrey Moore described in 1992 as 'the chasm'. It refers to the technology adoption lifecycle, or the transition from the early market into the mainstream eye.
Crossing the chasm provides the opportunity for accelerated growth and market success. It's the leap from being a new, little-known and exploratory product to mass adoption and well-known status.
The evolving tech and data ethics landscape
If we are in the chasm, what's happening as we try to cross it? In our interviews, we heard the same observations and themes from many actors and vantages, pointing towards some shifts within the tech and data ethics ecosystem. These shifts can have all kinds of implications for the early adopters and toolmakers; and represent many challenges and opportunities for the next generation of tech and data ethics tools.
We tried to put names to these shifts, to help identify and acknowledge the changes we see taking place around us (but they are only our interpretation):
From individual drivers to systemic drivers of ethical behaviour.

Early adopters are passionate individuals, but do not represent consistent levers for change. Many have recognised this in working or experimenting with embedding data ethics tools, and have found that without systemic drivers change can only go so far or so deep. This has led many in the ethics field to start to find these systemic levers and to create and address long-term incentives for change.

From proliferation to polish of tech and data ethics tools.

During the early adoption phase, many experts created tech and data ethics tools and frameworks, leading to a range of approaches as a natural part of an emerging field. Many of these early tools were experiments or prototypes. Now it seems that as part of this shift, people are starting to revisit these early creations or to create new ones, informed by the lessons of the first generation. There are more standards and certifications in the space than ever before, and people are tackling the question of 'what good looks like'.

From ethics in tech and data to governance of tech and data.

Many sectors don't engage with the ethics conversation, but pay a lot of attention to governance and regulation. As businesses large and small are reconsidering the role they play in society more broadly, governance – or how businesses are guided and managed – has become a critical issue. The question for many will be what may get lost in this shift, and how ethics can become integrated into governance.

From broad ethical principles to specific ethical practices.

Organisations that want to be ethical are faced with the challenge of turning general ethical principles into specific practices within their business. With the incredible range of industries, sectors, sizes of businesses and cultures, solutions for ethical issues need to be heavily contextualised.
Some of these shifts are only emerging, and some are contradictory. In the presentation above we explore these shifts in more depth, and look at some of the possible challenges and opportunities that exist for tech and data ethics tools within these shifts.
Lessons for the next generation of tech and data ethics tools
Following on from the early prototypes, we can apply the lessons learned to new tools, or to updated versions of old tools.
We spoke to creators of tools that address tech or data ethics, and to data practitioners and decision-makers, about what they would want from a tech or data ethics tool. They all had remarkably similar things to say not only about the tools but about the resources that sit around them.
More details can be found in the presentation. Many of these insights will be incorporated into the Data Ethics Canvas and Consequence Scanning, and it will be worth checking back in on these useful tools as they evolve.
Going forward
The job of the first generation of tech and data ethics tools was to shape and lead the field. The job of the next generation of tech and data ethics tools will be to grow the field.
As a field, we've come so far, and we've learned so much about how to build open, trustworthy tech and data systems that unlock positive and lasting social benefits. We look forward to exploring and engaging with the next generation of data ethics tools.
To engage further on tech and data ethics tools, get in touch with the ODI or Consequential.