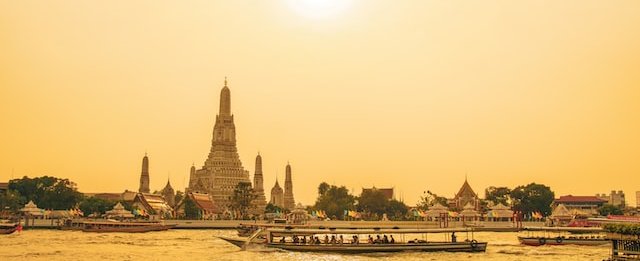 The Open Data Institute (ODI) is excited to be working on a new project with the Foreign, Commonwealth & Development Office in Bangkok, Thailand to support the development of open cities within the Bangkok Metropolitan Administration. Through this project the ODI will explore the developments of Open Bangkok and facilitate further openness through data, services and engagement. 
Thailand's primate city
Bangkok, known locally as Krung Thep, is Thailand's capital and largest city with over 14 million people in the metropolitan region. It is a primate city, with not just a disproportionately large population (22% of Thailand's entire population), but also contributing almost half of Thailand's GDP. It is safe to say that what happens in Bangkok has a huge impact on the rest of the country.
Which is why, when independent candidate Chadchart Sittipunt was elected as the governor of Bangkok in a landslide victory in May 2022, on the promise of greater openness, transparency and innovation – it sent shockwaves throughout the country and signalled the direction of Thailand's economic engine.
Bangkok is the only province in Thailand where the governor is elected to a four-year term rather than being appointed by the Ministry of Interior. The current government is headed by Prime Minister Prayut Chan-o-cha, the leader of the military coup of 2014 which ousted the previously democratically elected government and during which Chadchart was arrested and detained as then-Minister of Transport. Chadchart's elevation to a democratically elected position of significant influence might be a sign of things to come.
The next step is delivering on those promises. The Chadchart government is committed to using data to drive transparency and accountability. This commitment includes signing an executive order to ensure that all data held by the Bangkok Metropolitan Authority is to be openly published and machine readable within 180 days; empowering citizens to communicate problems to the local authority using the app Traffy Fondue; and launching apps for a project to plant one million trees in Bangkok.
Open cities
At the ODI, we've claimed for a few years now that smart cities don't really exist. There may be 'smart' projects and neighbourhoods but the complete vision of smart cities – even a couple of years after we wrote this blogpost – is still decades away. Cities around the world use data about the movement of people, energy usage, crime statistics, infrastructure monitoring, weather conditions, and more. Sometimes they do this well; sometimes it is problematic.
We have seen great examples of data being used to positive effect in urban space – by governments, residents and businesses:
But we have also seen examples of smart city initiatives that have either failed or even caused harm. Left unchecked, 'smart city' projects can represent harmful techo-solutionist ideas of society, entrenching existing disparities and inequalities in grand visions based on hubris and a misunderstanding of how data can help and also harm society. We can see the different scales of smart city failure:
At a time where criticism of the smart city movement is becoming more vocal, more transparent and participatory approaches should be adopted by cities as a way of moving away from the strategy of 'smart first', towards one of open. We have seen how smart cities have led to disjointed projects, lost expertise and wasted time and resources.
Open city governments use five main components to help provide better services and policies for both people and the environment. The five components are part of a process of being more open:
Open data – data that anyone can access, use and share – is provided and consumed by organisations and individuals across the city. Data sharing for the same purposes is also encouraged when data cannot be fully open.
Open source – code that is published under an open licence, allowing anyone to use, share and improve the software. Using open source can help a city government save money, and building software from scratch or adapting published code can lead to better solutions.
Open standards – reusable agreements that make it easier for people and organisations to publish, access, share and use better quality data. These are important for the growth and connections both within and between cities, and can be both technical and non-technical.
Open innovation – sharing data and ideas, and supporting innovative projects from citizens, civic tech organisations, startups, and business or academia. City governments need to equip citizens and organisations with the skills and resources to help solve their shared problems.
Open culture – building data infrastructure that is as open as possible, encouraging data literacy and capability for all, and advocating for open innovation, with a specific focus of leveraging collaborative technology towards ethical, equitable and just goals.
And these are the aspects of the open city that can be initiated by the governments. Openness can also be a guiding principle for residents/citizens, businesses and organisations to create better outcomes.
We explored this topic in detail with a focus on Europe in our report 'Becoming more open: The view from four European cities'. In the years since, we have been looking to shift away from our Eurocentric focus by supporting and highlighting openness in the rest of the world.
The project: exploring the Bangkok data ecosystem
The Bangkok Metropolitan Authority is making necessary first steps in understanding open data, and how it may be implemented in the Bangkok context, by setting an agenda and working group for the Open Bangkok initiative.
The Foreign, Commonwealth & Development Office and the Bangkok Metropolitan Authority's overarching objectives are to take a data-informed approach and implement the priorities around data, set by the Bangkok Metropolitan Authority, positioning the organisation as a major open data hub.
The specific objectives of this project are to:
Understand the Thai and especially the Bangkok city data ecosystem, to help discover the needs, barriers and opportunities for improved data infrastructure in the capital
Use ODI tools, such as the Open Cities Toolkit and case studies, to facilitate conversations about these opportunities and barriers to data use within the Bangkok Metropolitan Authority, and across different external data users and civil society organisations
Write a report documenting our findings and recommendations to support the further implementation of Open Bangkok and the development of Bangkok as an open city
Our work will support the 'open data' pillar of the initiative. Other organisations supporting these efforts include the Open Contracting Partnership and the Infrastructure Transparency Initiative. These organisations are also working to boost transparency in public procurement through the implementation of the Open Contracting Data Standard and the (Construction Sector Transparency) CoST Infrastructure Data Standard.
Looking ahead
This is an exciting time for Bangkok and the global open cities movement. Between the Foreign, Commonwealth & Development Office's Global Future Cities Programme and the Bloomberg Philanthropies City Data Alliance, we're seeing a renewed push for 'open' in our city data ecosystems.
To learn more about our work with Open Bangkok or Open Cities, please contact us at [email protected]