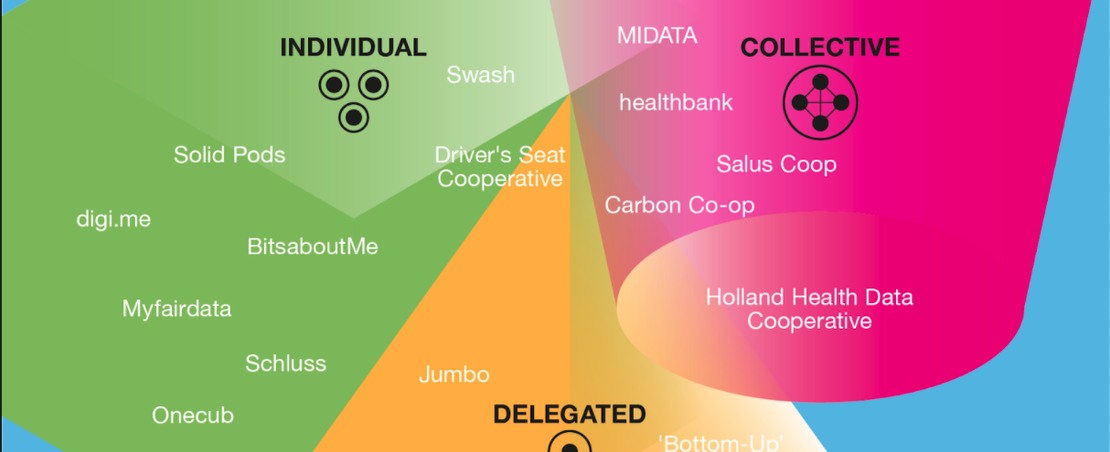 At the Open Data Institute (ODI) we have launched a new research project aimed at developing a series of policy options for governments to create an enabling environment for 'bottom-up data institutions' such as data cooperatives and data unions
In the ever more datafied societies we inhabit, it is crucial to develop new ways to increase  participation and to involve and empower people so that they have a say in how data is collected, used and shared.
At the ODI, we've come across data institutions that aim to empower people – often the people that the data is about, or those who have generated the data – to play a more active role in controlling how the data is used or shared.
We refer to these as 'bottom-up data institutions' to convey their focus on rebalancing power in the data economy away from corporations to individuals. They come in different shapes and sizes, and describe themselves in different ways: there are 'bottom-up data intermediaries', 'data cooperatives', 'data unions', 'personal data stores', 'data lockers', 'data trusts' and many more terms being used in this field. One thing they all have in common, however, is the commitment to developing novel approaches to participatory data governance that empower people to shape, manage and – in some instances – govern their own data.
We've seen policymakers begin to think about how to support these forms of bottom-up or participatory data stewardships. The European Commission, for example, has recently set out the Data Governance Act, which aims to stimulate economic growth through industrial 'data spaces' and promote a human-centric data economy via new 'data altruism organisations'. The Flemish government is piloting the use of SOLID personal data 'pods' as a new approach to involving citizens in the stewardship of data that they generate. In its recent consultation on data protection reform, the UK government asked for input on its role in supporting the activities of 'data intermediaries'.
In response to this interest, we are investigating the options available to the UK government and other policymakers to support bottom-up data institutions. As part of the project, we will complete the below tasks.
Undertake desk research to explore the interventions currently made by the UK government, as well as international interventions. Our initial findings split these into vertical interventions – focused on creating data institutions in particular sectors, areas or towards particular challenges; and horizontal interventions – that have focused on creating more general supportive conditions.
Understand the needs of bottom-up data institutions through one-to-one interviews with practitioners, supplemented by interviews with policymakers and other organisations working in the field of responsible data stewardship.
Develop creative policy options that could be implemented to enable bottom-up data institutions to flourish and enable new methods of civic participation in datafied societies.
We will publish the early findings of the research in the form of blogposts and worknotes, and will publish the policy options we develop early next year. Please do get in touch with us if you would like to participate in our interviews or would like to contribute to this work.