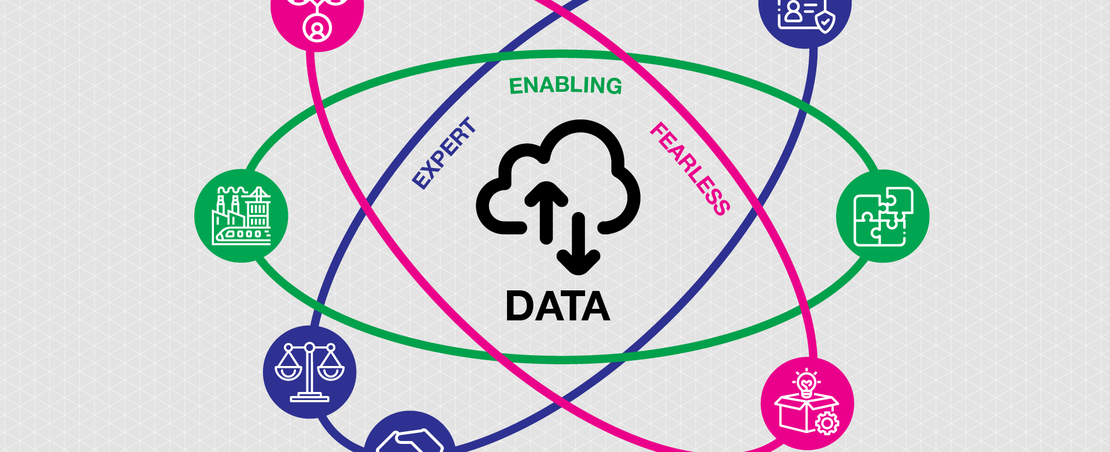 Data is critical for achieving our goals
In our 10th year we are evolving as an organisation: we are looking at our own role in the world of data and society as a whole, the products and services we offer. This now includes stewarding important data infrastructure on behalf of others, such as Open Referral.
As we look to the future, it is increasingly important we are able to maximise the value that we and others can unlock from the data infrastructure we steward. We need to have confidence that we are working efficiently, can trust the data we collect, use and share and that we have the skills and knowledge to do this well.
Good data practices are fundamental to the running of the Open Data Institute (ODI). The responsible and trustworthy stewardship of data is critical so that our staff, partners and customers can gain insight, make decisions, take action and deliver on our mission to build an open, trustworthy data ecosystem.
By striving for excellence in our own data practice, through the implementation of this strategy, we will be better positioned to unlock the opportunities that exist. Opportunities such as efficiencies from reduced duplication of data and effort; ease of access; insights into the reach and impact of marketing and thought leadership campaigns ; or the rationalisation of IT, through better visibility of what we hold. And the insight we gain will also present opportunities for the wider data ecosystem  and our stewardship of data infrastructure.
Our vision
It is in this context that we set our vision for the collection, use and sharing of data at the ODI:
We will harness the power of data in all that we do. Using data to inform our decisions, applying data analytics to gain insight, and removing barriers to unlocking the value of data for ourselves and for others.
Scope
In the course of our work we create, use and share different types of data. We process data about our clients and stakeholders, employees,  finances, products, services and assets. This strategy covers our approach to all the data that we hold, new or old, including personal data, ensuring we process it in ways that avoid harm and protect rights.
Examples of the data we create, use and share at the ODI include:
Personal data about our employees, members, customers and visitors.
Photos and records of event/workshop attendees (that we collect with express permission).
Contractual information about our suppliers.
Data used or created through research and development projects (for example surveys).
Financial data about spend on projects, salaries and overheads.
Data on our environmental impact for example energy use, waste and travel.
Data about the assets we hold for example building, laptops, mobile phones.
Data held in tools we publish, like open data certificates and the open data pathway.
How we'll deliver – our data principles
To deliver on our ambitions, and ensure we live and breathe the good data practice we encourage in others, we will embed the following seven principles into our day-to-day work:
Our data practices are ethical and equitable. The choices we make about the data we collect and how we use it will not be unjust, discriminatory or deceptive. Access to data we hold will be equitable and we uphold the rights of individuals to data about them.
Our data is secure and protected. Protecting people and communities from harm will be at the centre of what we do. We will build this requirement into our IT systems, policies and processes to keep data secure and protected against unlawful or unauthorised processing, access, loss, destruction or damage.
Our data and data practices are trustworthy. We will govern data in ways that ensure compliance with legal and societal norms, and reduce the risk of harmful impacts to individuals and communities. We understand the provenance and quality of the data we collect, use and share and communicate its suitability for purpose.
We value and build data skills and knowledge across the team. We will adopt a continuous learning culture, building our data skills, to ensure we are data informed. Our team will understand their responsibilities for data, relevant to their role.
We manage data as key infrastructure to increase its social, economic and environmental value. We invest in our data assets: the datasets and identifiers; the people that maintain them; and the standards and technologies we use to collect, use and share them.
We are open about the data we hold and how we collect, use and share it. We will use open source, open standards and open approaches where possible. When we engage with our clients and communities we will encourage openness about the data we collect and use.
We drive the innovative use of data. We adopt a continuous-improvement approach and apply data science and analytics to gain insights from data to inform our decisions.
Strategic priorities
To deliver on our vision we have identified the following strategic priorities:
We will invest in the capability of our staff to ensure we have the skills and knowledge needed to maximise the value we can create from data.
We will standardise processes around collection, use and sharing of our critical data assets.
We will identify and record our critical data assets that support ODI organisational goals.
We will establish clear accountabilities for our data, and systems.
We will maximise the use of our data to gain insight.
Our commitments
We commit to reviewing this strategy, and the supporting implementation plan, to ensure continued alignment with ODI goals on an annual basis.
Monitoring progress
We will monitor and report progress in delivering this strategy using existing ODI governance processes.
Feedback or queries about this strategy
If you have queries or feedback on our data strategy you can get in touch with us by emailing the ODI's data protection officer at [email protected] or by filling out the contact form on our website.