Friday lunchtime lecture: The Datacatcher: Big Data for the People
Friday 12 June 2015, 1:00pm - 1:00pm
The Open Data Institute, 65 Clifton Street, London, EC2A 4JE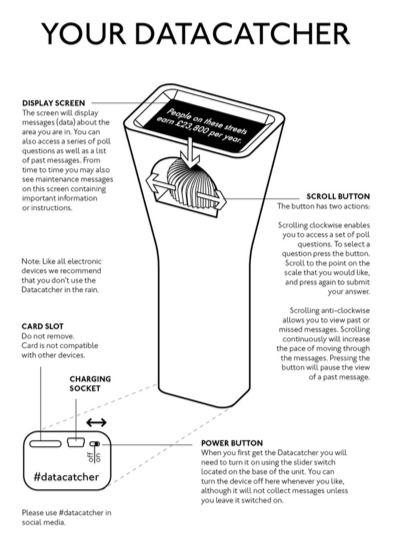 You bring your lunch, we provide tea & coffee, an interesting talk, and enough time to get back to your desk.
For our 12 June lecture... The Datacatcher: Big Data for the People
Earlier this year Goldsmiths University of deployed over 100 bespoke devices to people around London to see how they would shape their experiences of data and the city. The devices, called Datacatchers, show a stream of information drawn from numerous open and shared databases about their local surroundings. With information from the census, marketing sites, governmental agencies, and social media, they mutually illuminate the sociopolitical topology of the UK and the ways data represents that topology – and allow people to speak back by way of a series of somewhat irreverent poll questions. In this talk we describe the making of the Datacatchers, and show a few of the 50+ documentary videos we commissioned to build a picture of peoples' experiences.
Bill Gaver is Professor of Design and leads the Interaction Research Studio at Goldsmiths, University of London. Andy Boucher is a Senior Lecturer and co-director of the Interaction Research Studio. They lead a group of designers, social scientists and technologists engaged in practice-based research that develops innovative digital devices as a means of investigating prospects for technologies and people.
---