Building a business case for open data
Learn the language and build a business case to convince your colleagues to embrace open data.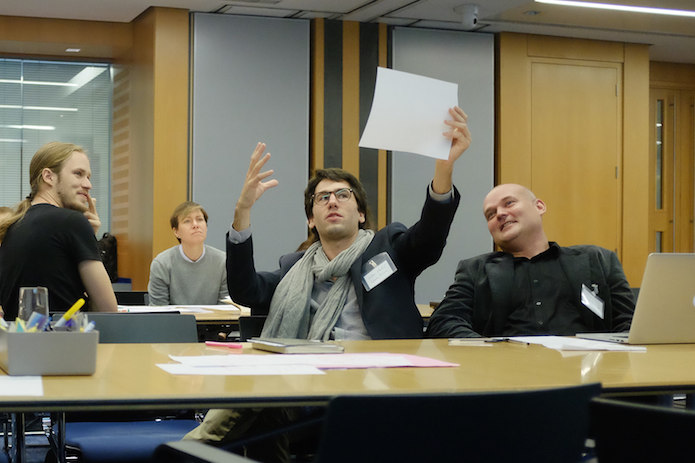 Image: CC BY 2.0, uploaded by [The ODI](https://www.flickr.com/photos/ukodi/22409333447/in/album-72157660870946662/ "The ODI").
Why should I care?
Open data is giving organisations in your market a new edge.
You may have heard of open data, but are put off by jargon or a lack of obvious commercial benefits.
While you see the opportunities that open data offers, you need the right language and business case to convince others to act on them.
What can I expect?
Our half-day workshop gives you the framework for delivering the perfect pitch for open data. Create the business case, learn the structure that can overcome objections, and get your project signed off fast.
What will I take away?
By the end of our workshop you will understand:
How to quickly build a compelling business case from simple case studies
The language that brings home the opportunity of open data to your colleagues
A five-point pitch structure to stop wasting time and get to the point
One technique to make sure you leave every meeting on open data with a decision
Who is this for?
This one is for the open data advocates. You are likely to believe open data has benefits for the organisation but can't convince your colleagues to share your enthusiasm. You could be at any level and from any background, but are likely to be speaking with people about the subject regularly. You need the drive to advocate for change and the commitment to get things done.
Course prerequisites
A basic familiarity with the concept of open data will help. If you don't have it yet, why not check out our introductory course, read our article, or take a free online learning module?
Course requirements
None.
About ODI courses
Co-founded by the inventor of the web, Tim Berners-Lee, the ODI offers courses that are friendly, supportive, fun, and take place in our lively headquarters in Shoreditch. No question is a silly question in our classrooms, and our expert teachers will arm you with all the practical skills you need for applying what you've learnt to the real world.